"Fresh Hope" Coming to Calvary Baptist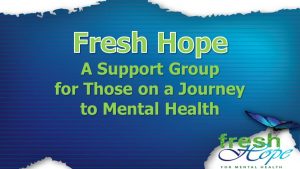 Fresh Hope for Mental Health® is an international network of Christian peer-to-peer mental health support groups whose mission is to empower those with mental health challenges, along with their loved ones, to live full and rich lives in spite of having a mental health diagnosis. Fresh Hope groups approach mental health recovery from a hope and faith-filled perspective. It is a mutual-help, peer-to-peer support group in which members encourage one another as equals under the guidance of a certified facilitator. The meeting format includes both a large and small group experience, where members can share as little or as much of their "journey" as they desire.
Fresh Hope is not intended to replace professional treatment such as therapy and prescribed medications when needed. Rather, Fresh Hope serves as a supplemental support and information system so that members and those who love them might develop tools to help them manage their illness on a daily basis in order to live with dignity and hope in Christ.
A Fresh Hope group will begin meeting at Calvary on Sunday nights at 7 o'clock, beginning on Feburary 11, 2018. For more information, please call 336/786-4778 or email office@calvarybcmtairy.org.