Children's Ministry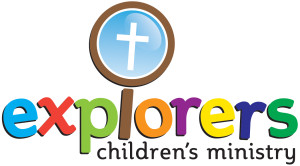 Here at Calvary, we believe that our mission of being a Christ-centered church calls us to place a special emphasis on children. After all, it was Christ who said, "Let the little children come to me and do not hinder them, for the kingdom of heaven belongs to such as these" (Matthew 19:14). Our goal is to help kids – along with their parents – to begin exploring their relationship with Jesus Christ and to weave Him into everything they learn each week. That's why we call our Children's Ministry "Explorers," and that's why we offer a variety of activities that allow kids and their families to get a great start on the adventure of faith.
Worship (Sunday Mornings at 8:30 AM and 10:55 AM)
During our worship services we provide a safe, clean and nurturing nursery environment for infants and toddlers, and a children's church option for kids 4yrs.-3rd grade. Kids who wish to participate in children's church will exit the service with the volunteer leaders once prompted by the Pastor. Once kids are in 4th grade we encourage them to begin being involved in worship, and begin to learn how to worship  by being in the service with their families.
Sunday School (Sunday Mornings at 9:45 AM)
Calvary's weekly Sunday School provides the backbone of our Children's Ministry. With caring teachers leading classes for children in Pre-K through Grade 5, Sunday School allows children to discover Bible stories and learn essential truths, all while building relationships with Christ and each other and having fun together. Our nursery is also available during this time.
Mid-Week Ministries (Wednesday Nights at 6 PM)
All of us can use a little "spiritual recharge" during the week…so, kids and their families are invited to be part of our Wednesday night activities that run from September-May from 6-7:15. Each Wed. night everyone will meet in the fellowship hall and begin the evening with a prayer…then kids will go to music until about 6:30, followed by their classes that will last until 7:15. We will also have some good Adult Bible studies for parents to be a part of while all of that is going on, so come and check it out! We have a nursery for 0-3 yr. olds, 4yr olds and Kindergartener's will be in Mission Friends, and 1st-5th graders will be a part of our "Explorers".
Additional Activities
Calvary's "Explorers Children's Ministry" is rounded out by a variety of other activities that take place throughout the year. These include:
Vacation Bible School
Children's Christmas Pageant
Easter Celebration

Other Special Outings and Day Trips
If you have questions about Calvary ministry to children, please contact our pastor Alex Martin, or our Ministry to Children and Youth Alex Bracey.